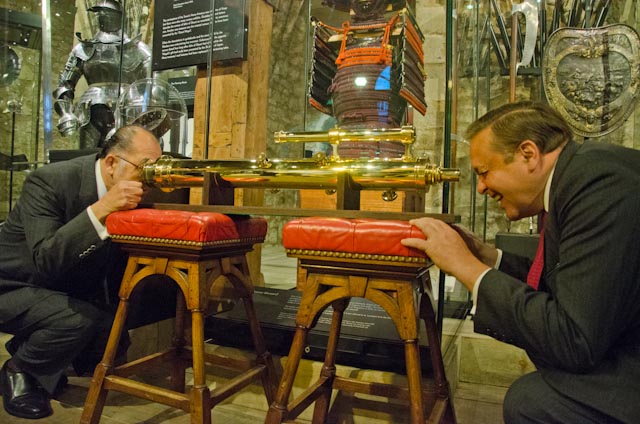 The first viewing of the telescope took place in front of the well-preserved suit of Japanese armour which was one of the return gifts made by the Shogunate to King James. Mutual pledges of everlasting friendship and respect between the two nations were also made at the time.
The new custom-made British telescope will be a gift to the Japanese nation – in place of the lost telescope sent by King James I as a rare gift to the Shogunate of Japan exactly 400 years ago.
The telescope is to be presented to the Japanese people by Japan400 to mark the 400th Anniversary of Japan-British Relations in trade, diplomacy, science and culture. In due course it will be offered for display at the British Embassy in Tokyo and a number of locations around Japan with strong British historical connections, before going on permanent display at a final destination in Japan, to be announced later.
Those present at this unique event in the White Tower included the Marquess of Salisbury, whose ancestor as King James I's Chief Minister organised the original Mission and gifts, and Akira Matsura, whose ancestor the Lord of Hirado was the first to welcome the British to Japan and had them guided on their way to Tokugawa Ieyasu, founder of the Tokugawa dynasty.
Speeches to mark the unveiling of the Japan400 Telescope were made by Wesley Paul, Chairman of the Royal Armouries, Professor Timon Screech—a co-Chairman of Japan400—as well as Lord Salisbury and Mr Matsura.
Also in attendance were Counsellor Kazuya Mori from the Japanese Embassy, Yuichiro Hanyu, Director of the Japan Local Government Centre, London, Takaaki Hanaoka, Secretary General of the Japan Chamber of Commerce and Industry in the UK, Professor Kozo Hiramatsu, representing the Japan Society for the Promotion of Science and Mr Robin Maynard and his wife who kindly supported the gift of the telescope.
The many and varied Events taking place in this under the umbrella of Japan400 this year commemorate the earliest diplomatic, trade, scientific and cultural links between the two countries. The Japan400 organising Committee also aims to renew the spirit of openness, discovery and fruitful collaboration which marked the first chapter in Japan-British relations 400 years ago.
this story was covered by NHK and TBS in Japanese and English.  For more information about media coverage of this and other events in Japan400, please see our media page http://japan400.org/category/media/: