Sioned Huws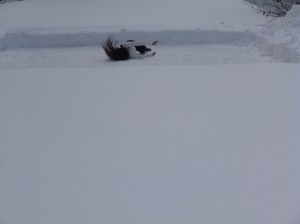 Sioned Huws is a Welsh choreographer and project director interested in memory and the influence of environment. Her work challenges and integrates different art-forms.
My introduction to Japan was through Aomori in 2008, on a dance research residency, made possible by Aomori Contemporary Arts Centre, the independent artists collective ARTizan also in Aomori and Chapter Arts Centre, Cardiff.

I travelled directly north without stopping in Tokyo. With no preconceived ideas about my destination, or what I might do there, I simply wanted to meet this place, to see what it would suggest to me. Arriving into an Arctic winter environment, unrelenting snowstorms and vast mountainous landscapes, I was faced with my own insignificance; my perception became more acute to small detail, those little things that make up a place. I was soon welcomed by the warmth and humour of Aomori persons, here I found a similarity to my own Welsh cultural background and upbringing: I grew up on a farm in the mountains of Snowdonia North Wales. The larger frame for my dance work has always been the natural world; nature has no sympathy and is continually at work.

Meeting this region of Japan, and the arts centres' concept of local and international exchange, enhanced my choreographic research, my interest in the relation of dance to environment and the everyday. This has led to my long-lasting collaboration with and commitment to an ongoing working process developed from the Tsugaru music and dance of north Japan, with a core of Japanese artists including Tsugaru Teodori dancer Yoshiya Ishikawa, Tsugaru shamisen music group Hasegawa Sangen-kai led by Yuji Hasegawa, Tsugaru minyo song of Kiyoko Goto and contemporary dancer Reina Kimura. This year Agnese Lanza  Elena Jacinta and Taz Burns, three UK based dancers joined the core company for the new collaboration Aomori, Aomori, a love story that has no ending, believing in wishes, hopes dreams and desires.

Since 2008 the project and my relationship with Japan has developed, with visits, developments, tours and performances in Wales, London (Greenwich Dance) Singapore, Italy and across Japan, involving different groups of local participants and artists, continuing a local and international dance dialogue, remaining sensitive to the particularities of a place.