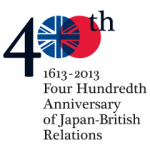 2013, the 400th anniversary of the opening of diplomatic, trade, cultural and scientific relations between Britain and Japan is over. Many thanks to all who registered events as part of the Japan400 year of celebrations. Together we reached almost 250 events in the UK and Japan.
We are no longer registering events under 'Japan400' but watch this space. This website is being evolved into a completely free E-book which will include many of the event highlights, images and features about the expanding horizons of Japan-British relations which so many people helped to create.
The first British ship to reach Japan, the Clove, left there at the end of 1613, and arrived into Plymouth on 27 September 1614 ("The seven and twentieth of September we arrived, thankes be to God, at Plimmouth.") and London on 2 December. The Japan400 team is also supporting and coordinating several significant events for mark the 400th anniversary of the Clove's homecoming in autumn and winter 2014.
Japan400 commemorated the start of diplomatic, trading, scientific and cultural relations between Britain and Japan in 1613. Through a host of exciting events during 2013, it celebrated the spirit of discovery and mutual regard that has inspired many successful collaborations and a remarkable friendship between two societies on opposite sides of the world.
Please come back to www.japan400.com in a while and see what we have become!
Though separated by ten thousand leagues of clouds and waves, our territories are as it were close to each other

–Tokugawa Ieyasu, letter to King James I, October 1613

Even in our country we have heard with certainty of the greatness of the glory of the Lord Shogun of Japan … Thus for ever and ever we will, we avow, communicate with Japan without any sense of distinction or separation

–James 1 and VI, letter to Tokugawa Ieyasu presented by John Saris and translated by William Adams.
---
---
Saris's trip to Edo and Back
You can see a full-size version of this map here.
Click on any marker on the map to read a pop-up extract from Saris's journal.
If your computer mouse has a wheel, hover your mouse pointer over the map itself and you can use the mousewheel to zoom in and out.
This post is also available in: Japanese