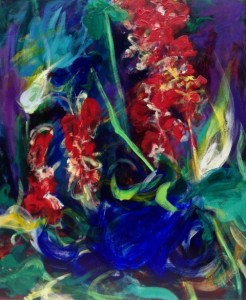 Slade graduate Hiroko Imada has been living and working in London for over 20 years. In this show  she presents works inspired by her two primary passions  – Nature and Dance/Movement – and explores them using various 2 dimensional techniques. Her vivid and powerful use of colour, and her strong brush strokes, express the movement, energy and life of her chosen subjects.
Her new experiments with printmaking, and using lithography on plywood, are shown to the public for the first time.   This exhibition is an opportunity to see not only her dynamic paintings, but also these rare print works.
As well as presenting her work as an artist, Hiroko has been teaching Japanese Woodblock printmaking, paper making, folded screen making and hanging scroll making in museums, galleries, universities and schools in London for over 20 years. Hiroko established a Japanese Woodblock printmaking course at the British Museum which continues today and many of her exhibitions and workshops were part of previous Japan related festivals; Japan 2001, Japan UK 150 and others. This exhibition is of work by an artist who lives and works within both cultures.
For more information about the artist, please see Hiroko Imada's website.